 Please wait..
Property Details – La Majada Alta
La Majada Alta is a delightful 3 bedroom, 2 bathroom, stone built cottage with secluded, private swimming pool, which has been modernised and equipped to a high standard whilst retaining the charm of its rustic, 19th century origins.
This house can accommodate up to 7 guests with two double beds and 3 single beds.
The cottage is situated within a national park and stands in several thousand square metres of private grounds, in an exceptionally beautiful area of mountains and lakes.
Our private pool measures 8m x 4m,  1m at the shallow end and under 2m the other. There is a terrace with sun beds and mattresses and another shady drinks terrace with table and benches.
There is a south facing terrace off the sitting room, well prepared  with table and chairs and a gas BBQ for outdoor dining.
There is a third  terrace by the front door on the north side of the house which is cooler in the summer months.
La Majada Alta is ideal for those who like to unwind and enjoy a peaceful, restful, holiday. The sound of goat bells as the herds graze by day, and the deep chested call of the eagle-owl at sunset, or the sight of eagles drifting with the thermals overhead are certainly relaxing.
The cottage is also ideal for our more active guests with fantastic opportunities for walking, rock climbing, para gliding, horse riding and canoeing all available locally.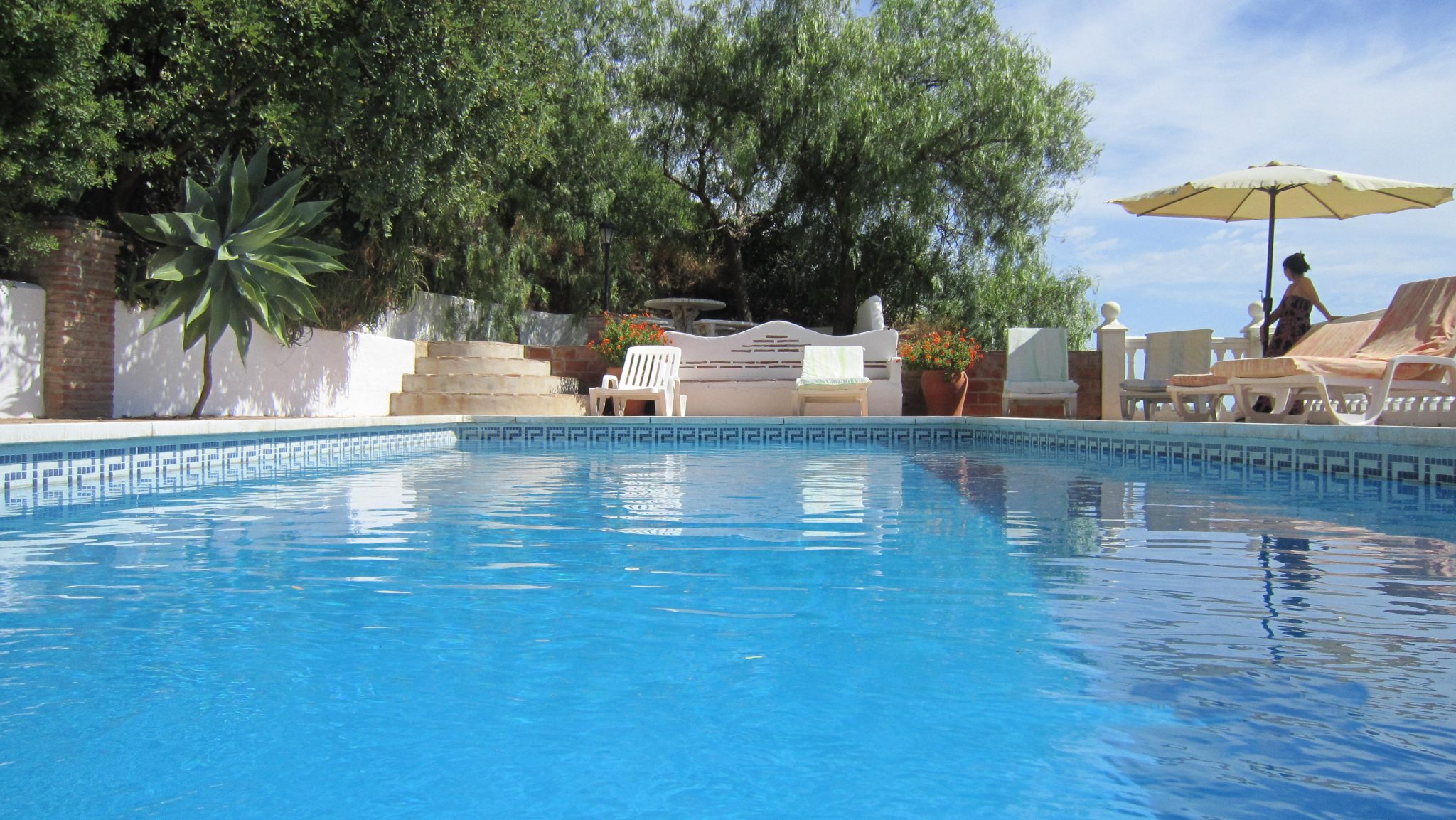 Gallery
Facilities
General:
Hair Dryer
Heating
Internet
Iron & Board
Linens Provided
Living Room
Parking
Towels Provided
Washing Machine
Wood Burner x 2
Kitchen: 
4 Ring Stove
Coffee Maker
Dishes & Utensils
Freezer
Kitchen
Microwave
Oven
Refrigerator
Hob
Toaster
Property Type:
Meals: 
Floor area: 
Location Type: 
Theme: 
Adventure
Away From It All
Family
Historic
Sports & Activities
Pool/Spa:
Private Pool 8 x 4 metres. 1 to 2 metres deep.
Attractions:
Dining:
Child's Highchair
Dining Room
seating for 6 people
Bathrooms:
Entertainment:
Books
DVD Player
Radio
Satellite / Cable
Television
Video Player
Outside:
Terrace Pool Terrace with table
Garden
Barbecue. Gas in the summer. Charcoal in winter
Terraces South and North, with tables
Suitability:
Reviews
Rural break Loved the place. Very well maintained. Host went above and beyond. Can't wait to go back. Lots of trekking trails in the surrounding area.

Peaceful getaway Lovely villa, with stunning views across the valley. The property is well equipped, and the air con in the bedrooms was really effective. Plenty of space for us all, and Colin was really helpful with useful information and advice from booking till we left. Thank you for a memorable family holiday!

July 2022 Andrew and Karen Cottage, pool and outdoor facilities are excellent. Views of the mountains and across the valley are spectacular. The local villages are very welcoming and friendly with good food and wine to be had. Colin and Francesca are great hosts and always there to help if needed. We would certainly recommend this fantastic property to anyone who wishes to experience the true heart of Andalucía. As for us, we would definitely love to return in the future.

Beautiful and relaxing The House and garden with pool was even better than its description. Very spacious for a family of four and very good value for your money. During the heat wave in Spain, we could still enjoy a breeze that made even the middle of the day comfortable. Colin arranged for everything needed, we only had to enjoy our stay.

Great hideaway in the mountains Very charming property in an idyllic location, with beautiful views of the surrounding landscapes from the terrace and pool. The house was spotless and maintained well, we had a very comfortable stay. The outdoor areas were excellent, with multiple spots for relaxing and eating. The situation of the property is perfect for exploring the area, such as Caminito del Rey which is just 20 minutes down the road, and the nearby cities/towns of Ronda, Mijas, and Antequera. You will need a car for this property, be aware there are some roads which are curvy and steep (which we enjoyed on our drives). Overall a wonderful stay!

Another wonderful week in this beautiful villa We love the remoteness, yet easy access to local villages and towns. The villa itself is amazing, 3 large double bedrooms, huge lounge. Lots of places to eat inside and out. And a wonderful good sized pool, and spectacular views with eagles overhead.

Beste uitzicht ooit! Dit vakantiehuis in de bergen bij Malaga is echt prachtig. In- en exterieur verraden veel aandacht voor detail. Het uitzicht vanaf het terras aan de achterkant van het huis is wondermooi. En het zwembad is goed onderhouden, schoon en een super plek om te zitten. Wij vonden het zo'n fijne plek dat we overwegen terug te komen!

Una estancia genial Una villa ideal en una ubicación envidiable. La vivienda estaba muy bien equipada: todo comodidades! Pudimos disfrutar de la zona y la tranquilidad que da encontrarse en un lugar como ese.
Colin fue súper amable y servicial con nosotros, muy agradecidos por eso.
Muy recomendable.
A little bit of paradise in the mountains
"I usually don't write reviews of my stays on HomeAway but was moved to make this my first.
Firstly a huge thanks to Colin. I have never before experienced correspondence as good as what we received before and during our stay. Although we didn't require special assistance, the offer was there and I get the impression Colin would go to the ends of the earth for his guests.
Colin wasn't in Spain but provided the numbers for two family members to contact to collect the keys.We were met by Jose in a nearby town and followed him up to the house. There were no restrictions on times and we arranged to meet up at 18:00, all we had to do was phone when we arrived and Jose was there in 5 minutes.
If you haven't driven in the mountains outside Malaga get a car and do it. The roads are like pool tables with a good few near the house being newly tarmaced while we were there. The journey from Malaga is 40 miles of snaking twists, turns and hairpins through beautiful countryside culminating in a cheeky off road hill climb 😉 I'm itching to get back on a motorbike!!
When you get up to the cottage its just beautiful. Its looks small from the front but once you're through the door the tardis effect kicks in.
The kitchen dining area is huge and very well equipped easily accommodating the 6 of us as we unpacked groceries and luggage.
The living area is also large and comfortably furnished..
All the bedrooms were a good size.
The main bathroom is ginormous and the shower comes at you like a fire hose. You get a massage while you shower, Perfect!!
There is full sky TV and wifi broadband as quick as what I have at home.
Inside the cottage is spotless.
The outside space at the rear is large with plenty of seating.
There is a gas and traditional BBQ which was perfect for the amount of food we were cooking.
A path and steps snake down from the patio to the pool area. The pool and surrounding patio is amazing with plenty of loungers. The pool was cleaned twice by very discrete maintenance men (we were only there 5 days).
I could turn this in to a 1000 word essay as there are so many positive things to say but will spare you.
We will definitely be back for another stay.
If you are looking around on HomeAway for somewhere to stay stop. You have already found it here.
Thanks again Colin."
-Peter M.
Excellent place in a superb location.
"We have just returned from a week stay here and already we can't wait to return. I stayed here with my fiancee and 3 of our friends for a week of rock climbing in and around El Chorro, And i must say that this is a perfect location for all the nearby crags.
I would like to point out how excellent Colin and Francesca are as hosts, They couldn't do enough to make our stay better (even though they weren't in Spain). We were arriving on a Sunday afternoon when all the shops were closed so Colin offered to get everything we needed from the supermarket before we arrived so we could settle straight in, I have never known service like this and i have stayed in a lot of places.
We met Francesca's sister Marie at the meeting point in the village and she lead us to the cottage…A very easy meeting place to find and the garage shop is handy.
The cottage itself is perfect from the excellent pool and terrace which was a god send after a full day out climbing to the log burning fires for the cooler nights.
One of my personal favourite things to do was watching the Vultures right above the house which nest on the crag just up from the grounds…these birds are beautiful and HUGE!!, there is also mountain goats in the area too which often pass by.
The night skies here are another thing of beauty too and for a photo enthusiast like myself i spent a lot of time outside on a night time.
I could go on and on about this place but i have to go to work now haha…..just book it and enjoy!!!
If you think it looks nice in the photos i can tell you the photos don't do it justice.
Thanks guys"
-Shaun, Rachel, Silas, Mark and Bob
Prices – in Euros
| Period – 2020 | Price |
| --- | --- |
| 1 January—–20 March | €750 / week |
| 21 March—–10 July | €850 / week |
| 11 July——–28 Aug | €950 / week |
| 29 Aug———16 Oct | €850 / week |
| 17 Oct——–31 Dec | €750 / week |
| Period – 2021 | Price |
| --- | --- |
| 1 January—–9 July | €850 / week |
| 10 July—–27 Aug | €950 / week |
| 28 Aug ——–31 Dec | €850 / week |
Availability
Calendar Updated on 2023, December 07 at 01:38 am
December 2023
| | | | | | | |
| --- | --- | --- | --- | --- | --- | --- |
| Sun | Mon | Tue | Wed | Thu | Fri | Sat |
| | | | | | 1 | 2 |
| 3 | 4 | 5 | 6 | 7 | 8 | 9 |
| 10 | 11 | 12 | 13 | 14 | 15 | 16 |
| 17 | 18 | 19 | 20 | 21 | 22 | 23 |
| 24 | 25 | 26 | 27 | 28 | 29 | 30 |
| 31 | | | | | | |
January 2024
| | | | | | | |
| --- | --- | --- | --- | --- | --- | --- |
| Sun | Mon | Tue | Wed | Thu | Fri | Sat |
| | 1 | 2 | 3 | 4 | 5 | 6 |
| 7 | 8 | 9 | 10 | 11 | 12 | 13 |
| 14 | 15 | 16 | 17 | 18 | 19 | 20 |
| 21 | 22 | 23 | 24 | 25 | 26 | 27 |
| 28 | 29 | 30 | 31 | | | |
February 2024
| | | | | | | |
| --- | --- | --- | --- | --- | --- | --- |
| Sun | Mon | Tue | Wed | Thu | Fri | Sat |
| | | | | 1 | 2 | 3 |
| 4 | 5 | 6 | 7 | 8 | 9 | 10 |
| 11 | 12 | 13 | 14 | 15 | 16 | 17 |
| 18 | 19 | 20 | 21 | 22 | 23 | 24 |
| 25 | 26 | 27 | 28 | 29 | | |
March 2024
| | | | | | | |
| --- | --- | --- | --- | --- | --- | --- |
| Sun | Mon | Tue | Wed | Thu | Fri | Sat |
| | | | | | 1 | 2 |
| 3 | 4 | 5 | 6 | 7 | 8 | 9 |
| 10 | 11 | 12 | 13 | 14 | 15 | 16 |
| 17 | 18 | 19 | 20 | 21 | 22 | 23 |
| 24 | 25 | 26 | 27 | 28 | 29 | 30 |
| 31 | | | | | | |
April 2024
| | | | | | | |
| --- | --- | --- | --- | --- | --- | --- |
| Sun | Mon | Tue | Wed | Thu | Fri | Sat |
| | 1 | 2 | 3 | 4 | 5 | 6 |
| 7 | 8 | 9 | 10 | 11 | 12 | 13 |
| 14 | 15 | 16 | 17 | 18 | 19 | 20 |
| 21 | 22 | 23 | 24 | 25 | 26 | 27 |
| 28 | 29 | 30 | | | | |
May 2024
| | | | | | | |
| --- | --- | --- | --- | --- | --- | --- |
| Sun | Mon | Tue | Wed | Thu | Fri | Sat |
| | | | 1 | 2 | 3 | 4 |
| 5 | 6 | 7 | 8 | 9 | 10 | 11 |
| 12 | 13 | 14 | 15 | 16 | 17 | 18 |
| 19 | 20 | 21 | 22 | 23 | 24 | 25 |
| 26 | 27 | 28 | 29 | 30 | 31 | |
June 2024
| | | | | | | |
| --- | --- | --- | --- | --- | --- | --- |
| Sun | Mon | Tue | Wed | Thu | Fri | Sat |
| | | | | | | 1 |
| 2 | 3 | 4 | 5 | 6 | 7 | 8 |
| 9 | 10 | 11 | 12 | 13 | 14 | 15 |
| 16 | 17 | 18 | 19 | 20 | 21 | 22 |
| 23 | 24 | 25 | 26 | 27 | 28 | 29 |
| 30 | | | | | | |
July 2024
| | | | | | | |
| --- | --- | --- | --- | --- | --- | --- |
| Sun | Mon | Tue | Wed | Thu | Fri | Sat |
| | 1 | 2 | 3 | 4 | 5 | 6 |
| 7 | 8 | 9 | 10 | 11 | 12 | 13 |
| 14 | 15 | 16 | 17 | 18 | 19 | 20 |
| 21 | 22 | 23 | 24 | 25 | 26 | 27 |
| 28 | 29 | 30 | 31 | | | |
August 2024
| | | | | | | |
| --- | --- | --- | --- | --- | --- | --- |
| Sun | Mon | Tue | Wed | Thu | Fri | Sat |
| | | | | 1 | 2 | 3 |
| 4 | 5 | 6 | 7 | 8 | 9 | 10 |
| 11 | 12 | 13 | 14 | 15 | 16 | 17 |
| 18 | 19 | 20 | 21 | 22 | 23 | 24 |
| 25 | 26 | 27 | 28 | 29 | 30 | 31 |
September 2024
| | | | | | | |
| --- | --- | --- | --- | --- | --- | --- |
| Sun | Mon | Tue | Wed | Thu | Fri | Sat |
| 1 | 2 | 3 | 4 | 5 | 6 | 7 |
| 8 | 9 | 10 | 11 | 12 | 13 | 14 |
| 15 | 16 | 17 | 18 | 19 | 20 | 21 |
| 22 | 23 | 24 | 25 | 26 | 27 | 28 |
| 29 | 30 | | | | | |
October 2024
| | | | | | | |
| --- | --- | --- | --- | --- | --- | --- |
| Sun | Mon | Tue | Wed | Thu | Fri | Sat |
| | | 1 | 2 | 3 | 4 | 5 |
| 6 | 7 | 8 | 9 | 10 | 11 | 12 |
| 13 | 14 | 15 | 16 | 17 | 18 | 19 |
| 20 | 21 | 22 | 23 | 24 | 25 | 26 |
| 27 | 28 | 29 | 30 | 31 | | |
November 2024
| | | | | | | |
| --- | --- | --- | --- | --- | --- | --- |
| Sun | Mon | Tue | Wed | Thu | Fri | Sat |
| | | | | | 1 | 2 |
| 3 | 4 | 5 | 6 | 7 | 8 | 9 |
| 10 | 11 | 12 | 13 | 14 | 15 | 16 |
| 17 | 18 | 19 | 20 | 21 | 22 | 23 |
| 24 | 25 | 26 | 27 | 28 | 29 | 30 |