 Please wait..
Property Details – La Majada Alta
La Majada Alta is a delightful 3 bedroom, 2 bathroom, stone built cottage with secluded, private swimming pool, which has been modernised and equipped to a high standard whilst retaining the charm of its rustic, 19th century origins.
This house can accommodate up to 7 guests with two double beds and 3 single beds.
The cottage is situated within a national park and stands in several thousand square metres of private grounds, in an exceptionally beautiful area of mountains and lakes.
Our private pool measures 8m x 4m,  1m at the shallow end and under 2m the other. There is a terrace with sun beds and mattresses and another shady drinks terrace with table and benches.
There is a south facing terrace off the sitting room, well prepared  with table and chairs and a gas BBQ for outdoor dining.
There is a third  terrace by the front door on the north side of the house which is cooler in the summer months.
La Majada Alta is ideal for those who like to unwind and enjoy a peaceful, restful, holiday. The sound of goat bells as the herds graze by day, and the deep chested call of the eagle-owl at sunset, or the sight of eagles drifting with the thermals overhead are certainly relaxing.
The cottage is also ideal for our more active guests with fantastic opportunities for walking, rock climbing, para gliding, horse riding and canoeing all available locally.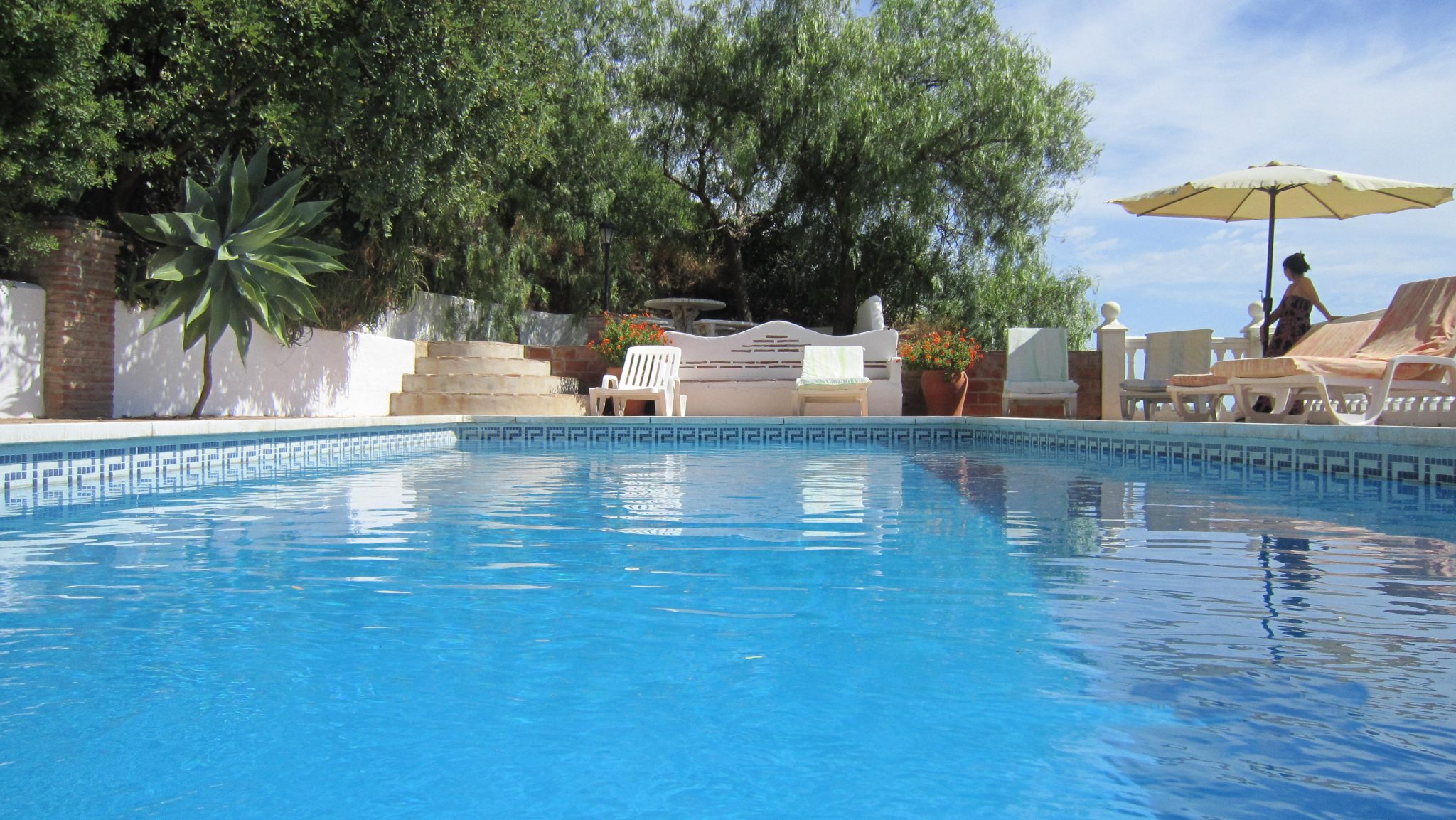 Gallery
Facilities
General:
Hair Dryer
Heating
Internet
Iron & Board
Linens Provided
Living Room
Parking
Towels Provided
Washing Machine
Wood Burner x 2
Kitchen: 
4 Ring Stove
Coffee Maker
Dishes & Utensils
Freezer
Kitchen
Microwave
Oven
Refrigerator
Hob
Toaster
Property Type:
Meals: 
Floor area: 
Location Type: 
Theme: 
Adventure
Away From It All
Family
Historic
Sports & Activities
Pool/Spa:
Private Pool 8 x 4 metres. 1 to 2 metres deep.
Attractions:
Dining:
Child's Highchair
Dining Room
seating for 6 people
Bathrooms:
Entertainment:
Books
DVD Player
Radio
Satellite / Cable
Television
Video Player
Outside:
Terrace Pool Terrace with table
Garden
Barbecue. Gas in the summer. Charcoal in winter
Terraces South and North, with tables
Suitability:
Reviews
Sehr schönes Ferienhaus in ruhiger Lage Das Ferienhaus liegt sehr ruhig und in perfekter Lage für einen Kletterurlaub in El Chorro. Colin hat uns das Gefühl gegeben willkommen zu sein.

Jolie maison dans un cadre superbe de nature. Charmante et très jolie maison située un peu à l'écart dans un cadre de nature magnifique. De belles terrasses et une jolie piscine avec des transats et une très jolie vue sur les environs. Seule la qualité de la literie laisse à désirer, en effet les matelas sont fatigués et les mousses les constituant sont devenues très molles ce qui pose problème en particulier dans les lits doubles, c'est vraiment le seul point négatif car sinon la maison est confortable et bien équipée. Ce fût une très bonne expérience (à part les lits)

Una casa muy completa He estado en muchas casas y aunque tengan camas para más gente, no suelen tener objetos para tal. En esta casa no ha faltado detalle.
La cocina cuenta con mucho menaje, y más habiendo ido a celebrar una nochevieja. Una casa muy limpia, con calefactor en baños, máquinas de Ac en cada habitación y dos chimeneas.
También dispone de secador del pelo.
Todo muy limpio y ordenado.
No está vallado, y admiten Mascotas, un alojamiento muy pero que muy recomendable.

Entspannung pur in traumhafter Landschaft Wir kamen an und waren vom Haus und der Lage begeistert. Die Kommunikation mit Colin war hervorragend! Wir hatten noch keinen Vermieter , der sich schon im voraus so um unsere Anliegen gekümmert hat. Vielen Dank nochmal, wir kommen gerne wieder.

Heartbreaking to leave 🙁 Wow, just wow! We met Colin who guided us up the mountainside into the relative quiet (crickets is all you hear and a wonderful strange whoosh as the wind wraps around the cliff side). The house was beyond expectations, so much room for just the four of us, and air conditioning meant no hot sticky nights! The ensuite shower was amazingly powerful and even though my husband is a 6'8" giant, he only hit his head once! The steps down to the pool....where I can honestly say I spent so much time swimming and reading, I think I lost weight!
The local town with a few cafes and supermarkets was lovely and very 'untouristy' so practice your Spanish.
The house, the pool, the view, the eagles flying overhead was simply marvellous, and I shall return!
Thank you Colin and Francesca for your attentiveness (especially with the ants!) Bee xxx

Perfect location for a relaxing holiday. We spent two weeks here and wished it could have been longer. The villa was comfortable and very clean, Colin was extremely helpful and easy to contact if needed. The views from the villa and pool area are breathtaking. There's
lots of interesting wildlife, we spent many evenings watching the Ibex drinking from the pool. Rocabella is an excellent restaurant, just a few minutes drive away, we enjoyed quite a few meals there, it's reasonably priced and the food is good.
We would love to visit again and next time we will definitely book, Caminito del Rey.
Thanks again, hope to be back in the future.

Great house, great location We are a family of 6 (4 big children) who had a fantastic week in this lovely house. The view is magnificent and it was difficult to choose between looking out over the valley or up the cliff wall where vultures circled all day long. Several times a day wild mountain goats came by; sometimes they drank from the pool to our great enthusiasm.
The house was well appointed and cozy.
Colin (the host) was very helpful and responded quickly to our queries.
We can highly recommend this lovely place

Beautiful Villa This is the perfect place to visit if you want to get away from the hustle and bustle of a busy seaside resort. The views are fantastic, and it is so peaceful. We loved playing in the good sized pool and the local wildlife is a plus. If you are active their are some good local walks and the lakes are great to swim in but if you just want to relax and unwind you can sunbathe, watch a bit of sky sports and chill out at the villa. The wi-fi got the thumbs up from the children and the owner Colin couldn't do enough to make our stay as good as possible.
A little bit of paradise in the mountains
"I usually don't write reviews of my stays on HomeAway but was moved to make this my first.
Firstly a huge thanks to Colin. I have never before experienced correspondence as good as what we received before and during our stay. Although we didn't require special assistance, the offer was there and I get the impression Colin would go to the ends of the earth for his guests.
Colin wasn't in Spain but provided the numbers for two family members to contact to collect the keys.We were met by Jose in a nearby town and followed him up to the house. There were no restrictions on times and we arranged to meet up at 18:00, all we had to do was phone when we arrived and Jose was there in 5 minutes.
If you haven't driven in the mountains outside Malaga get a car and do it. The roads are like pool tables with a good few near the house being newly tarmaced while we were there. The journey from Malaga is 40 miles of snaking twists, turns and hairpins through beautiful countryside culminating in a cheeky off road hill climb 😉 I'm itching to get back on a motorbike!!
When you get up to the cottage its just beautiful. Its looks small from the front but once you're through the door the tardis effect kicks in.
The kitchen dining area is huge and very well equipped easily accommodating the 6 of us as we unpacked groceries and luggage.
The living area is also large and comfortably furnished..
All the bedrooms were a good size.
The main bathroom is ginormous and the shower comes at you like a fire hose. You get a massage while you shower, Perfect!!
There is full sky TV and wifi broadband as quick as what I have at home.
Inside the cottage is spotless.
The outside space at the rear is large with plenty of seating.
There is a gas and traditional BBQ which was perfect for the amount of food we were cooking.
A path and steps snake down from the patio to the pool area. The pool and surrounding patio is amazing with plenty of loungers. The pool was cleaned twice by very discrete maintenance men (we were only there 5 days).
I could turn this in to a 1000 word essay as there are so many positive things to say but will spare you.
We will definitely be back for another stay.
If you are looking around on HomeAway for somewhere to stay stop. You have already found it here.
Thanks again Colin."
-Peter M.
Excellent place in a superb location.
"We have just returned from a week stay here and already we can't wait to return. I stayed here with my fiancee and 3 of our friends for a week of rock climbing in and around El Chorro, And i must say that this is a perfect location for all the nearby crags.
I would like to point out how excellent Colin and Francesca are as hosts, They couldn't do enough to make our stay better (even though they weren't in Spain). We were arriving on a Sunday afternoon when all the shops were closed so Colin offered to get everything we needed from the supermarket before we arrived so we could settle straight in, I have never known service like this and i have stayed in a lot of places.
We met Francesca's sister Marie at the meeting point in the village and she lead us to the cottage…A very easy meeting place to find and the garage shop is handy.
The cottage itself is perfect from the excellent pool and terrace which was a god send after a full day out climbing to the log burning fires for the cooler nights.
One of my personal favourite things to do was watching the Vultures right above the house which nest on the crag just up from the grounds…these birds are beautiful and HUGE!!, there is also mountain goats in the area too which often pass by.
The night skies here are another thing of beauty too and for a photo enthusiast like myself i spent a lot of time outside on a night time.
I could go on and on about this place but i have to go to work now haha…..just book it and enjoy!!!
If you think it looks nice in the photos i can tell you the photos don't do it justice.
Thanks guys"
-Shaun, Rachel, Silas, Mark and Bob
Prices – in Euros
| Period – 2020 | Price |
| --- | --- |
| 1 January—–20 March | €750 / week |
| 21 March—–10 July | €850 / week |
| 11 July——–28 Aug | €950 / week |
| 29 Aug———16 Oct | €850 / week |
| 17 Oct——–31 Dec | €750 / week |
| Period – 2021 | Price |
| --- | --- |
| 1 January—–9 July | €850 / week |
| 10 July—–27 Aug | €950 / week |
| 28 Aug ——–31 Dec | €850 / week |
Availability
Calendar Updated on 2020, November 30 at 12:22 pm
December 2020
| | | | | | | |
| --- | --- | --- | --- | --- | --- | --- |
| Sun | Mon | Tue | Wed | Thu | Fri | Sat |
| | | 1 | 2 | 3 | 4 | 5 |
| 6 | 7 | 8 | 9 | 10 | 11 | 12 |
| 13 | 14 | 15 | 16 | 17 | 18 | 19 |
| 20 | 21 | 22 | 23 | 24 | 25 | 26 |
| 27 | 28 | 29 | 30 | 31 | | |
January 2021
| | | | | | | |
| --- | --- | --- | --- | --- | --- | --- |
| Sun | Mon | Tue | Wed | Thu | Fri | Sat |
| | | | | | 1 | 2 |
| 3 | 4 | 5 | 6 | 7 | 8 | 9 |
| 10 | 11 | 12 | 13 | 14 | 15 | 16 |
| 17 | 18 | 19 | 20 | 21 | 22 | 23 |
| 24 | 25 | 26 | 27 | 28 | 29 | 30 |
| 31 | | | | | | |
February 2021
| | | | | | | |
| --- | --- | --- | --- | --- | --- | --- |
| Sun | Mon | Tue | Wed | Thu | Fri | Sat |
| | 1 | 2 | 3 | 4 | 5 | 6 |
| 7 | 8 | 9 | 10 | 11 | 12 | 13 |
| 14 | 15 | 16 | 17 | 18 | 19 | 20 |
| 21 | 22 | 23 | 24 | 25 | 26 | 27 |
| 28 | | | | | | |
March 2021
| | | | | | | |
| --- | --- | --- | --- | --- | --- | --- |
| Sun | Mon | Tue | Wed | Thu | Fri | Sat |
| | 1 | 2 | 3 | 4 | 5 | 6 |
| 7 | 8 | 9 | 10 | 11 | 12 | 13 |
| 14 | 15 | 16 | 17 | 18 | 19 | 20 |
| 21 | 22 | 23 | 24 | 25 | 26 | 27 |
| 28 | 29 | 30 | 31 | | | |
April 2021
| | | | | | | |
| --- | --- | --- | --- | --- | --- | --- |
| Sun | Mon | Tue | Wed | Thu | Fri | Sat |
| | | | | 1 | 2 | 3 |
| 4 | 5 | 6 | 7 | 8 | 9 | 10 |
| 11 | 12 | 13 | 14 | 15 | 16 | 17 |
| 18 | 19 | 20 | 21 | 22 | 23 | 24 |
| 25 | 26 | 27 | 28 | 29 | 30 | |
May 2021
| | | | | | | |
| --- | --- | --- | --- | --- | --- | --- |
| Sun | Mon | Tue | Wed | Thu | Fri | Sat |
| | | | | | | 1 |
| 2 | 3 | 4 | 5 | 6 | 7 | 8 |
| 9 | 10 | 11 | 12 | 13 | 14 | 15 |
| 16 | 17 | 18 | 19 | 20 | 21 | 22 |
| 23 | 24 | 25 | 26 | 27 | 28 | 29 |
| 30 | 31 | | | | | |
June 2021
| | | | | | | |
| --- | --- | --- | --- | --- | --- | --- |
| Sun | Mon | Tue | Wed | Thu | Fri | Sat |
| | | 1 | 2 | 3 | 4 | 5 |
| 6 | 7 | 8 | 9 | 10 | 11 | 12 |
| 13 | 14 | 15 | 16 | 17 | 18 | 19 |
| 20 | 21 | 22 | 23 | 24 | 25 | 26 |
| 27 | 28 | 29 | 30 | | | |
July 2021
| | | | | | | |
| --- | --- | --- | --- | --- | --- | --- |
| Sun | Mon | Tue | Wed | Thu | Fri | Sat |
| | | | | 1 | 2 | 3 |
| 4 | 5 | 6 | 7 | 8 | 9 | 10 |
| 11 | 12 | 13 | 14 | 15 | 16 | 17 |
| 18 | 19 | 20 | 21 | 22 | 23 | 24 |
| 25 | 26 | 27 | 28 | 29 | 30 | 31 |
August 2021
| | | | | | | |
| --- | --- | --- | --- | --- | --- | --- |
| Sun | Mon | Tue | Wed | Thu | Fri | Sat |
| 1 | 2 | 3 | 4 | 5 | 6 | 7 |
| 8 | 9 | 10 | 11 | 12 | 13 | 14 |
| 15 | 16 | 17 | 18 | 19 | 20 | 21 |
| 22 | 23 | 24 | 25 | 26 | 27 | 28 |
| 29 | 30 | 31 | | | | |
September 2021
| | | | | | | |
| --- | --- | --- | --- | --- | --- | --- |
| Sun | Mon | Tue | Wed | Thu | Fri | Sat |
| | | | 1 | 2 | 3 | 4 |
| 5 | 6 | 7 | 8 | 9 | 10 | 11 |
| 12 | 13 | 14 | 15 | 16 | 17 | 18 |
| 19 | 20 | 21 | 22 | 23 | 24 | 25 |
| 26 | 27 | 28 | 29 | 30 | | |
October 2021
| | | | | | | |
| --- | --- | --- | --- | --- | --- | --- |
| Sun | Mon | Tue | Wed | Thu | Fri | Sat |
| | | | | | 1 | 2 |
| 3 | 4 | 5 | 6 | 7 | 8 | 9 |
| 10 | 11 | 12 | 13 | 14 | 15 | 16 |
| 17 | 18 | 19 | 20 | 21 | 22 | 23 |
| 24 | 25 | 26 | 27 | 28 | 29 | 30 |
| 31 | | | | | | |
November 2021
| | | | | | | |
| --- | --- | --- | --- | --- | --- | --- |
| Sun | Mon | Tue | Wed | Thu | Fri | Sat |
| | 1 | 2 | 3 | 4 | 5 | 6 |
| 7 | 8 | 9 | 10 | 11 | 12 | 13 |
| 14 | 15 | 16 | 17 | 18 | 19 | 20 |
| 21 | 22 | 23 | 24 | 25 | 26 | 27 |
| 28 | 29 | 30 | | | | |