 Please wait..
Property Details – Loma La Parra
Loma la Parra is a spacious, 5 bedroom, 5 bathroom, country house with private swimming pool built in the style of a traditional Spanish "cortijo" to comfortably sleep up to 13 guests.
Loma la Parra is situated at the heart of Andalucia's most beautiful area of mountains and lakes and set in several thousand square metres of private land with gardens and terraces and over 200 olive trees.
Our private swimming pool measures 11m x 5 m, 1m to about 2m deep. It is the centre piece of the garden and visible from several rooms in the house.
The surrounding terrace covers all four sides with a pergola shade and many sunbeds.
There is a shady terrace opening from the kitchen and the sitting room and well equipped with table and chairs for outdoor dining plus sofa and chairs for relaxation.
The covered BBQ or "summer kitchen" with a further table and seating for twelve is secluded in the garden.
From its dominating hill top position there are truly spectacular, panoramic views across the valley to the mountains in the west and over sun drenched rolling hills to the south.
The "white village" of El Valle de Abdalajis, rich in history and traditions, nestling at the foot of the high "sierras" is only five minutes drive from the villa and just over an hour from Malaga airport.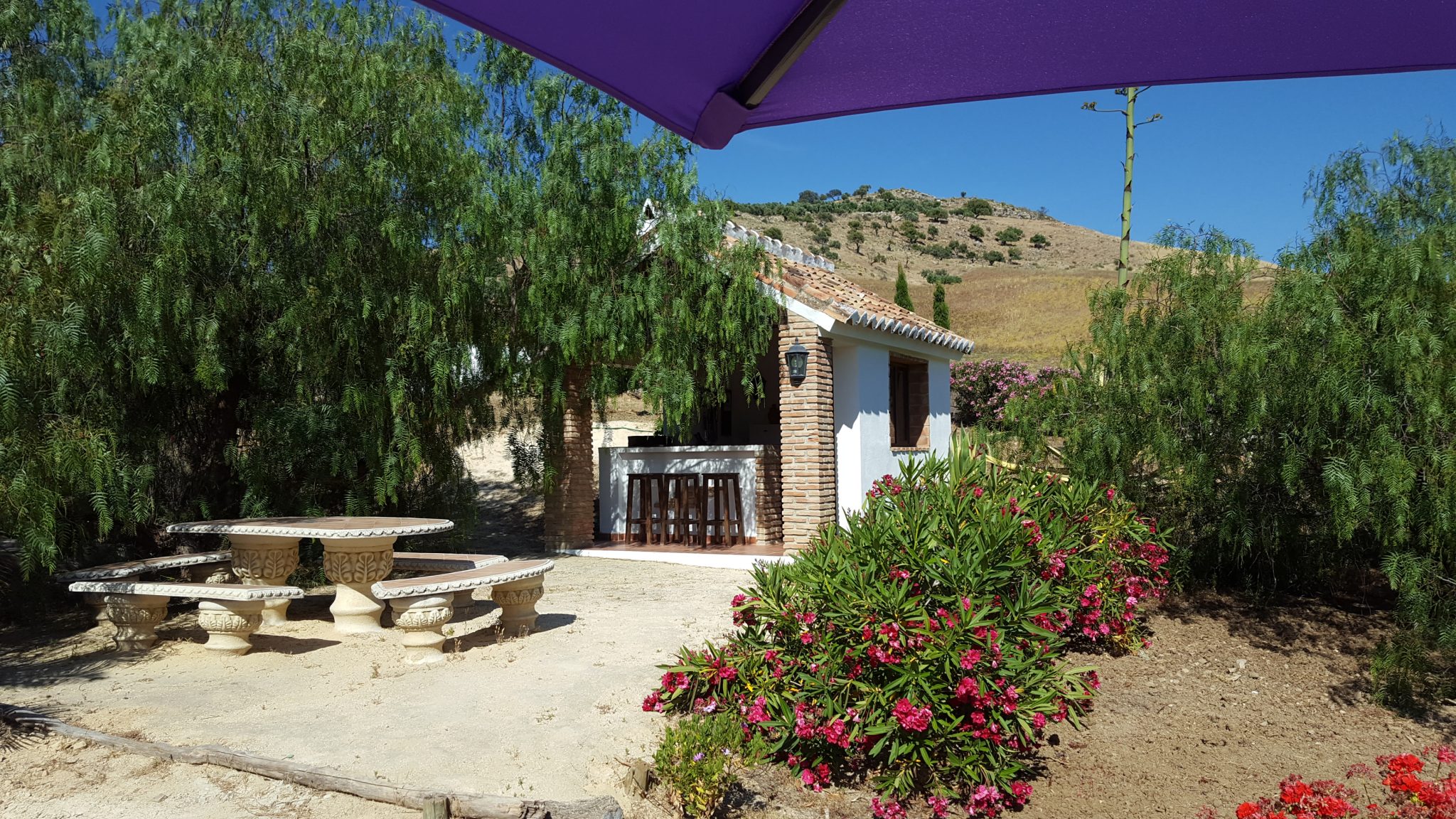 Gallery
Facilities
Property Type:
Meals:
Floor area:
House rules:
Max. occupancy: 13
children welcome
Location Type:
Theme:
Away From It All
Family
Sports & Activities
Local Services & Businesses:
cycling
golf
mountain biking
mountain climbing
paragliding
swimming
General:
Air Conditioning
Fireplace
Hair Dryer
Heating
Internet
Iron & Board
Linens Provided
Living Room
Parking
Towels Provided
Tumble Dryer
Washing Machine
Wireless Internet
Wood Stove
Kitchen:
4 Ring Electric Stove
Dishwasher
Freezer
Grill
Microwave
Oven
Refrigerator
Hob
Dining:
Entertainment:
Books
DVD Player
Satellite / Cable
Television
Outside:
Balcony
Bicycles
Terraces. For dining, relaxing and sunbathing
Golf
Garden
Barbecue
Sand Pit
Ski & Snowboard .in Sierra Nevada, Granada
Tennis …In Antequera
10 garden chairs
10 pool sunbeds
Suitability: Wheelchair accessible
Pool/Spa:
Outdoor Pool
Private Pool ..11m x 5m.
Leisure Activities:
bird watching
horse riding
walking
Reviews
Fin de año en familia TOP! Repetiremos sin duda! Pasamos un fin de año con la familia maravilloso! La casa está ubicada en una zona muy tranquila y cuenta con todas las comodidades que puedas imaginar. Colin fue un muy buen anfitrión y estuvo muy atento. En la casa está todo súper cuidado y no falta un detalle. Estuvimos como si fuera nuestra casa. Repetiremos sin duda!

Todo perfecto Todo muy bien. Casa grande y acogedora con muchas comodidades. Propietario muy amable. Muy recomendable

Beautiful house, nice view We were a group of 13 climbers from Norway, so full house! Suprisingly no issues with hot water in the shower, even if all of us took one the same evening, this is often a problem for big groups. Also a big kitchen with room for many chefs at a time 🙂 Valle de Abdalajis is a pretty little town, but a longer drive to Alora is better if you want to eat at restaurants.

Excellent established villa in the mountain We had a brilliant stay at Loma La Parra. 10 of us were house in the spacious property. All 5 bedrooms were ensuite and were huge. The living / dining room provided ample space to relax indoors. The kitchen area is also impressive and also has a large table. The best part of the villa is the swimming pool area including the pagoda which provided a welcome shaded area. There's plenty of comfortable beds for everyone. A separate building housed the charcoal bbq and had both electric and water. WiFi was available throughout the property including around the pool. The owners were always available to discuss any issues. Overall an extremely good property which lived up to our expectations.

The perfect holiday home Our family of 8 had an absolutely fantastic break at the property. Ranging from ages 7 - 65, the house met all our needs and was big, spacious and perfectly equipped for us to spend the week in the sun in the most relaxed fashion.
Days were spent in the pool or chilling in the spacious living room while evenings were spent cooking fantastic BBQs in the outdoor kitchen; enjoying quality family meals on the veranda; watching the beautiful sunsets dip behind the mountains and all followed up by evening dips in the pool. Two big shops in the Lidl half an hour's drive away (Antequera) saw us through the week. The kitchen and utility space were very well appointed so that we didn't need to purchase any equipment.
Colin was on hand all week and it was comforting having the security of support, a simple text away, (particularly given our age ranges). We feel very lucky to have experienced Valle de Abdalajis in such a perfect property and would love to visit again. You will not be disappointed with this property, location or ease of self-catering opportunity.

Just book it........! A stunning villa in a stunning location. Situated just outside a quaint and rural village, this amazing villa is a great choice for large family's / groups with plenty of space both inside & out for everyone to spread out. The villa is well equipped with everything you need for your stay and the outside spaces are especially fantastic. The pool is cleaned every morning and we had meals delivered on two occasions and both were delicious and plentiful - enough left over to snack on the following day . Colin and Francesca were extremely helpful and responded to our enquires very swiftly and answered our numerous questions and requests for information. You really need a car to be able to get out and about - you CAN walk to the village but it is quite a hike especially in the heat, but the tranquillity of the location and the views cannot be faulted. If your looking to spend some quality time around a pool in glorious surrounding, firing up the BBQ for relaxed alfresco dining and wandering down to the village for a few drinks & tapas sat on the pavement outside a typical bar, this is the place - you won't find better!!
Wonderful home with great views and lovely owners
We spent a week at Loma La Parra with two other families and had a wonderful visit. The home was simply lovely and well sited to enjoy the beautiful views of Valle de Abdalajis, dramatic surrounding mountains, meandering country side filled with olive trees, and the passing goat herd on the nearby hill during several late afternoons. Our group of ten had plenty of space, but enjoyed gathering on the patio amongst the various sitting areas, ample dining area, and of course around the lovely pool with shaded area. The lounge chairs were very comfortable and the pool was very refreshing even in the heat of the summer. Seeing the milky way and shooting stars each night by the pool was a great way to end our days. We balanced day trips to Granada, Cordoba, and Ronda with time relaxing by the pool, and short trips into Antequera and El Torcal for a great hike amongst the unique rock formations. We enjoyed a special dinner at the Restaurante Plaza De Toros, dining with just a few other tables in the middle of the Bull Ring in Antequera – delicious meal featuring local specialities and wonderful service. Colin and Francesca were just delightful and so helpful while planning our visit, and also during our stay. They were always very responsive and pleasant. It is clear how special this property is to them and we are grateful to have called it home for a week. Their local family was lovely and one of our favorite meals was the gazpacho, paella and dessert they prepared for us. We enjoyed the air conditioning in the bedrooms but the house enjoys nice breezes as well. We recommend Loma La Parra and hope to return one day – Thank you Colin and Francesca!
Suzanne C.
Perfection!!
"We truly loved staying at Loma la Parra. The house is spacious and very well equipped. We each had our own bedroom and bathroom, a plus. The kitchen was everything we needed and we were able to do laundry, which is always a plus. But by far the best thing about the house is the patio/terrace and pool area. We sat each night on the terrace and had appetizers and drinks and talked about our day. We spent two pool days just relaxing and decompressing and they were the best!! We loved the town and Colin's recommendation to eat at Nescania turned out to be favorite for us. Colin was very responsive to our communications and so helpful with our planning. The highlight of our trip was the Caminito del Rey and Ardales Lakes, but we also enjoyed El Torcal, Los Arcos, Antequerra, and Ronda. The property is exactly as described and we could not have been happier. Highly recommend!"
-Denise S.
Prices – in Euros
| Period – 2020 | Price |
| --- | --- |
| 1 January—–24 April | €1,750 / week |
| 25 April——-10 July | €1,950 / week |
| 11 July——–28 Aug | €2,250 / week |
| 29 Aug———9 Oct | €1,950 / week |
| 10 Oct——–31 Dec | €1,750 / week |
| Period – 2021 | Price |
| --- | --- |
| 1 January—–23 April | €1,850 / week |
| 24 April——-9 July | €1,950 / week |
| 10 July——–27 Aug | €2,250 / week |
| 28 Aug ———15 Oct | €1,950 / week |
| 16 Oct——–31 Dec | €1,850 / week |
Availability
Calendar Updated on 2023, December 07 at 04:13 am
December 2023
| | | | | | | |
| --- | --- | --- | --- | --- | --- | --- |
| Sun | Mon | Tue | Wed | Thu | Fri | Sat |
| | | | | | 1 | 2 |
| 3 | 4 | 5 | 6 | 7 | 8 | 9 |
| 10 | 11 | 12 | 13 | 14 | 15 | 16 |
| 17 | 18 | 19 | 20 | 21 | 22 | 23 |
| 24 | 25 | 26 | 27 | 28 | 29 | 30 |
| 31 | | | | | | |
January 2024
| | | | | | | |
| --- | --- | --- | --- | --- | --- | --- |
| Sun | Mon | Tue | Wed | Thu | Fri | Sat |
| | 1 | 2 | 3 | 4 | 5 | 6 |
| 7 | 8 | 9 | 10 | 11 | 12 | 13 |
| 14 | 15 | 16 | 17 | 18 | 19 | 20 |
| 21 | 22 | 23 | 24 | 25 | 26 | 27 |
| 28 | 29 | 30 | 31 | | | |
February 2024
| | | | | | | |
| --- | --- | --- | --- | --- | --- | --- |
| Sun | Mon | Tue | Wed | Thu | Fri | Sat |
| | | | | 1 | 2 | 3 |
| 4 | 5 | 6 | 7 | 8 | 9 | 10 |
| 11 | 12 | 13 | 14 | 15 | 16 | 17 |
| 18 | 19 | 20 | 21 | 22 | 23 | 24 |
| 25 | 26 | 27 | 28 | 29 | | |
March 2024
| | | | | | | |
| --- | --- | --- | --- | --- | --- | --- |
| Sun | Mon | Tue | Wed | Thu | Fri | Sat |
| | | | | | 1 | 2 |
| 3 | 4 | 5 | 6 | 7 | 8 | 9 |
| 10 | 11 | 12 | 13 | 14 | 15 | 16 |
| 17 | 18 | 19 | 20 | 21 | 22 | 23 |
| 24 | 25 | 26 | 27 | 28 | 29 | 30 |
| 31 | | | | | | |
April 2024
| | | | | | | |
| --- | --- | --- | --- | --- | --- | --- |
| Sun | Mon | Tue | Wed | Thu | Fri | Sat |
| | 1 | 2 | 3 | 4 | 5 | 6 |
| 7 | 8 | 9 | 10 | 11 | 12 | 13 |
| 14 | 15 | 16 | 17 | 18 | 19 | 20 |
| 21 | 22 | 23 | 24 | 25 | 26 | 27 |
| 28 | 29 | 30 | | | | |
May 2024
| | | | | | | |
| --- | --- | --- | --- | --- | --- | --- |
| Sun | Mon | Tue | Wed | Thu | Fri | Sat |
| | | | 1 | 2 | 3 | 4 |
| 5 | 6 | 7 | 8 | 9 | 10 | 11 |
| 12 | 13 | 14 | 15 | 16 | 17 | 18 |
| 19 | 20 | 21 | 22 | 23 | 24 | 25 |
| 26 | 27 | 28 | 29 | 30 | 31 | |
June 2024
| | | | | | | |
| --- | --- | --- | --- | --- | --- | --- |
| Sun | Mon | Tue | Wed | Thu | Fri | Sat |
| | | | | | | 1 |
| 2 | 3 | 4 | 5 | 6 | 7 | 8 |
| 9 | 10 | 11 | 12 | 13 | 14 | 15 |
| 16 | 17 | 18 | 19 | 20 | 21 | 22 |
| 23 | 24 | 25 | 26 | 27 | 28 | 29 |
| 30 | | | | | | |
July 2024
| | | | | | | |
| --- | --- | --- | --- | --- | --- | --- |
| Sun | Mon | Tue | Wed | Thu | Fri | Sat |
| | 1 | 2 | 3 | 4 | 5 | 6 |
| 7 | 8 | 9 | 10 | 11 | 12 | 13 |
| 14 | 15 | 16 | 17 | 18 | 19 | 20 |
| 21 | 22 | 23 | 24 | 25 | 26 | 27 |
| 28 | 29 | 30 | 31 | | | |
August 2024
| | | | | | | |
| --- | --- | --- | --- | --- | --- | --- |
| Sun | Mon | Tue | Wed | Thu | Fri | Sat |
| | | | | 1 | 2 | 3 |
| 4 | 5 | 6 | 7 | 8 | 9 | 10 |
| 11 | 12 | 13 | 14 | 15 | 16 | 17 |
| 18 | 19 | 20 | 21 | 22 | 23 | 24 |
| 25 | 26 | 27 | 28 | 29 | 30 | 31 |
September 2024
| | | | | | | |
| --- | --- | --- | --- | --- | --- | --- |
| Sun | Mon | Tue | Wed | Thu | Fri | Sat |
| 1 | 2 | 3 | 4 | 5 | 6 | 7 |
| 8 | 9 | 10 | 11 | 12 | 13 | 14 |
| 15 | 16 | 17 | 18 | 19 | 20 | 21 |
| 22 | 23 | 24 | 25 | 26 | 27 | 28 |
| 29 | 30 | | | | | |
October 2024
| | | | | | | |
| --- | --- | --- | --- | --- | --- | --- |
| Sun | Mon | Tue | Wed | Thu | Fri | Sat |
| | | 1 | 2 | 3 | 4 | 5 |
| 6 | 7 | 8 | 9 | 10 | 11 | 12 |
| 13 | 14 | 15 | 16 | 17 | 18 | 19 |
| 20 | 21 | 22 | 23 | 24 | 25 | 26 |
| 27 | 28 | 29 | 30 | 31 | | |
November 2024
| | | | | | | |
| --- | --- | --- | --- | --- | --- | --- |
| Sun | Mon | Tue | Wed | Thu | Fri | Sat |
| | | | | | 1 | 2 |
| 3 | 4 | 5 | 6 | 7 | 8 | 9 |
| 10 | 11 | 12 | 13 | 14 | 15 | 16 |
| 17 | 18 | 19 | 20 | 21 | 22 | 23 |
| 24 | 25 | 26 | 27 | 28 | 29 | 30 |